LAUNCH
Formulated in the lab. Proven in the gym.
Elevate your workout to lunar levels with our 100% transparent pre-workout, crafted from pure science and premium ingredients locally sourced when possible.
SHOP
PRE-WORKOUT
A pre-workout that is specially formulated to deliver physical, mental, and yes, even emotional benefits.
Learn more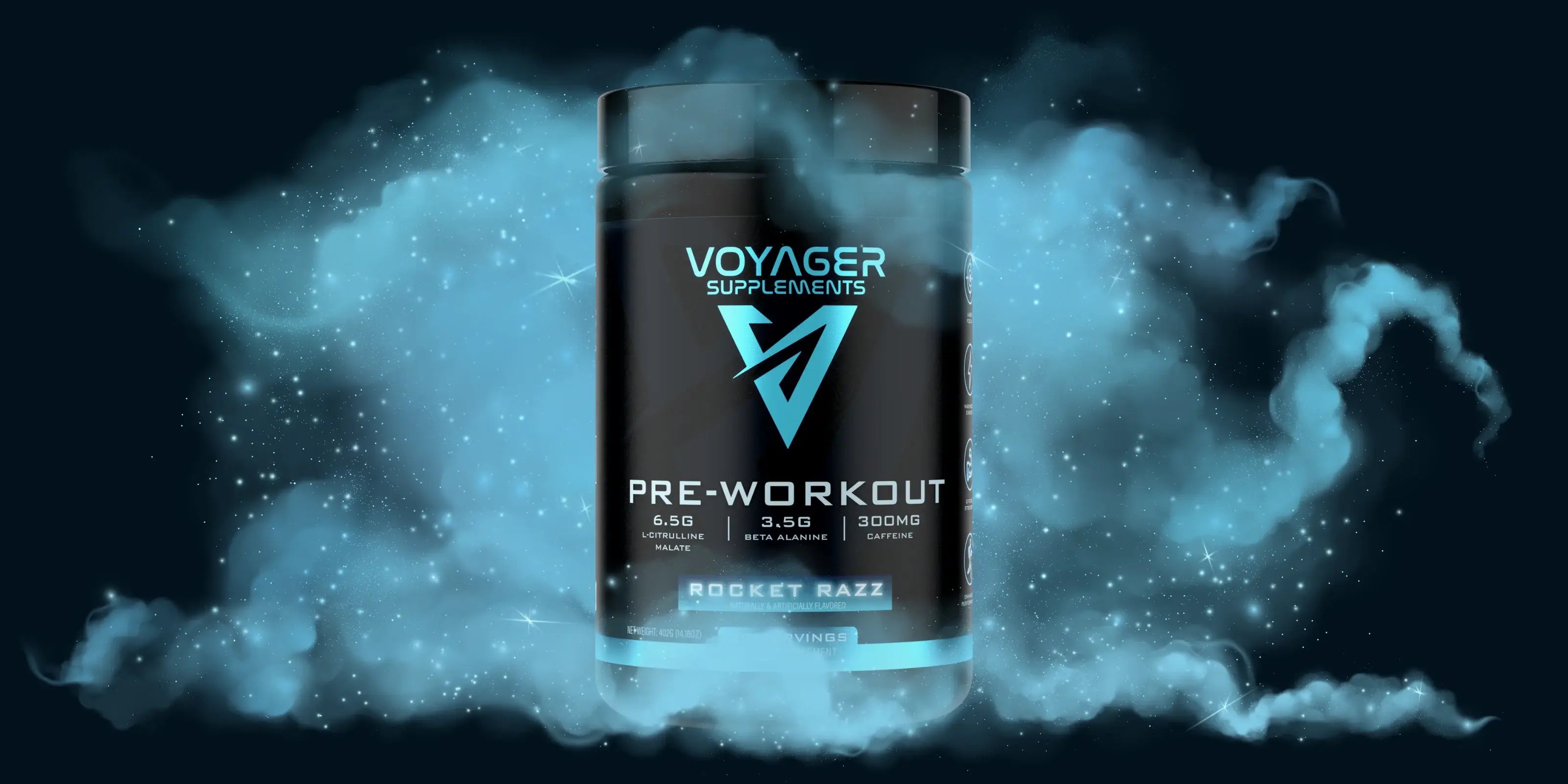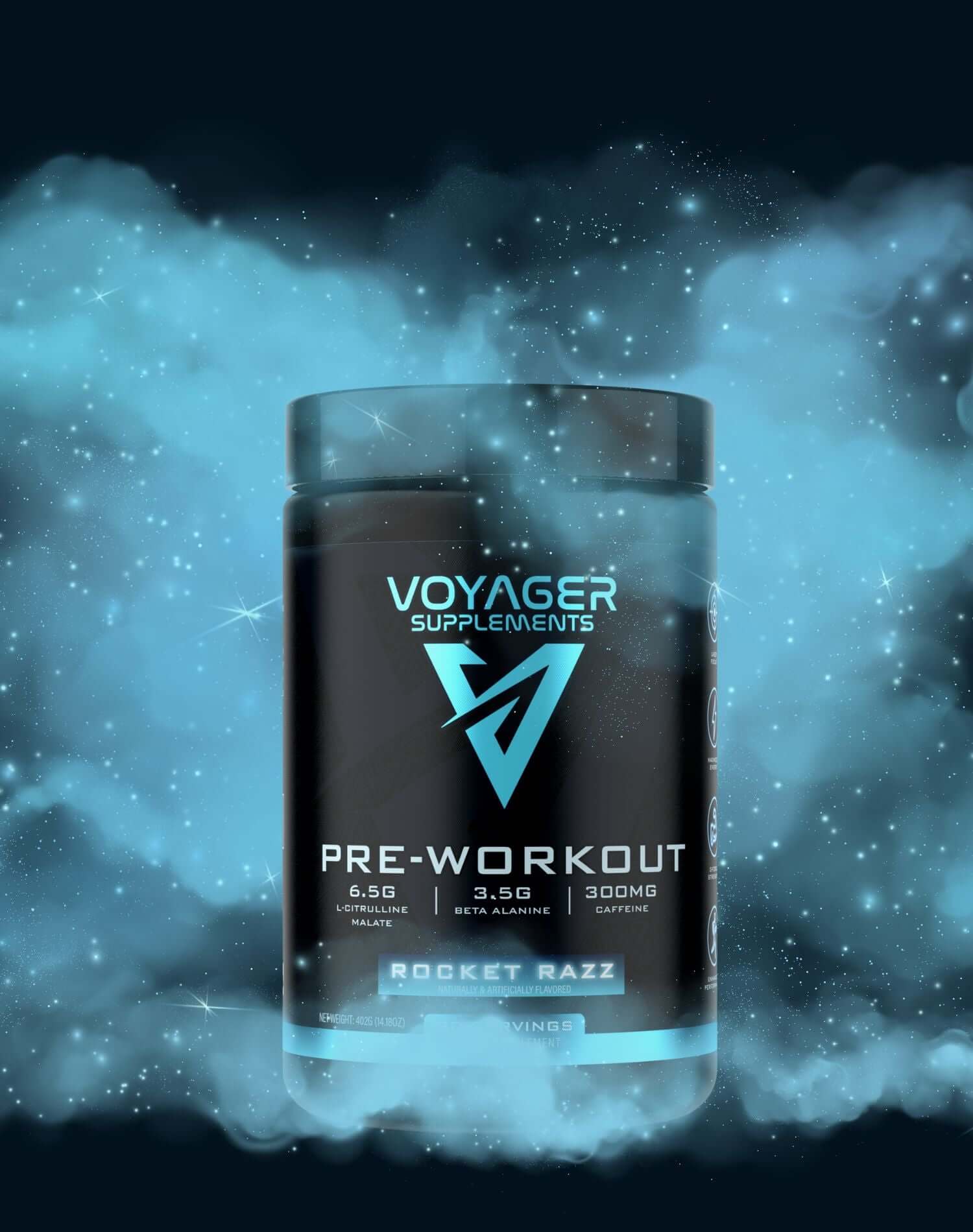 Maximize Energy
Increased ATP (cellular energy) production and quicker metabolism to optimize stamina levels, so you will smash every workout.†
Enhance Performance
Operate at your peak with increased endurance and reduced fatigue -- both muscular and mental.†
G-Force Strength
Function at your strongest for longer and experience greater blood flow to achieve an impressive pump.†
Laser Focus
Heightened mental awareness and concentration so you can direct all your energy on the task at hand.†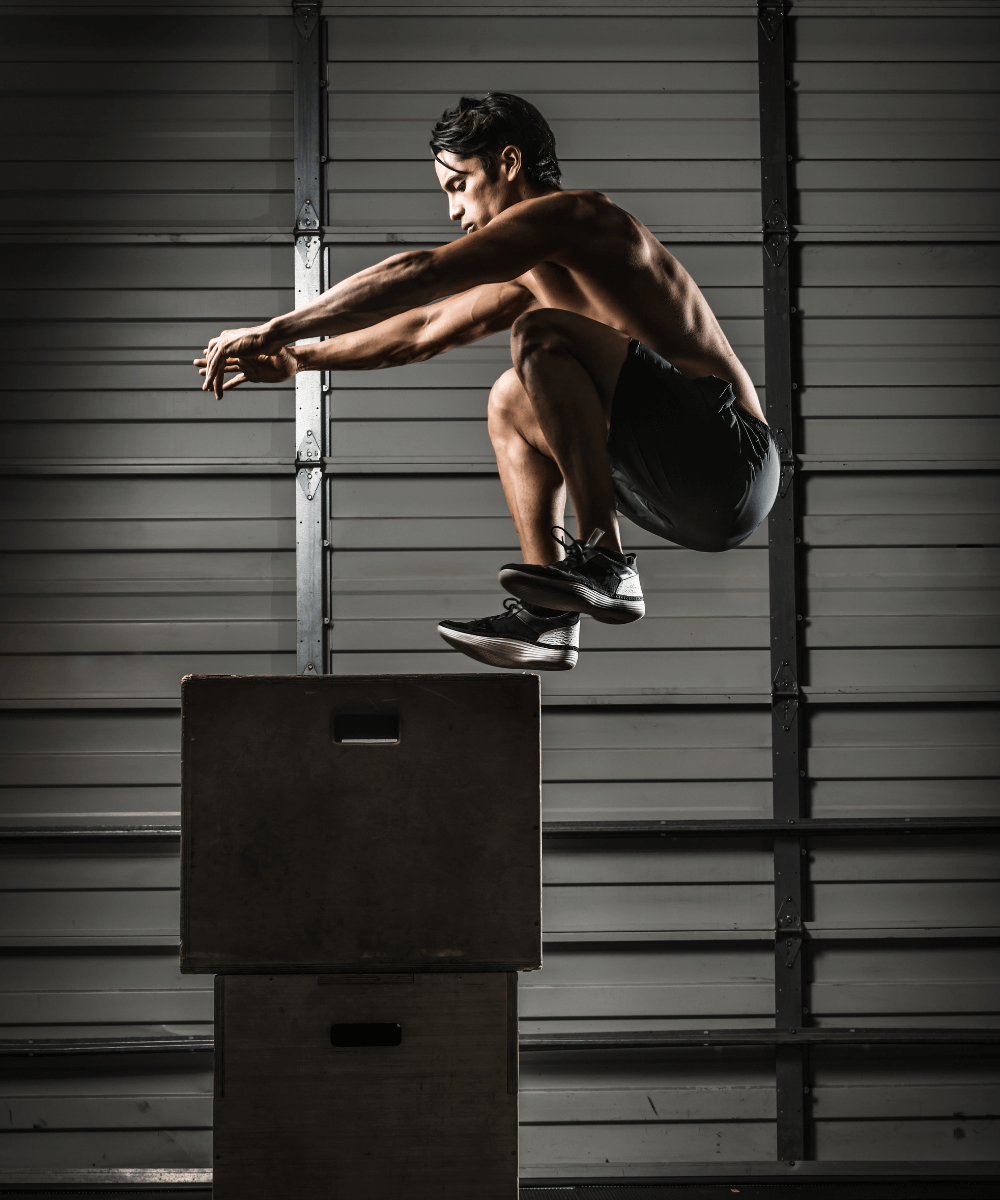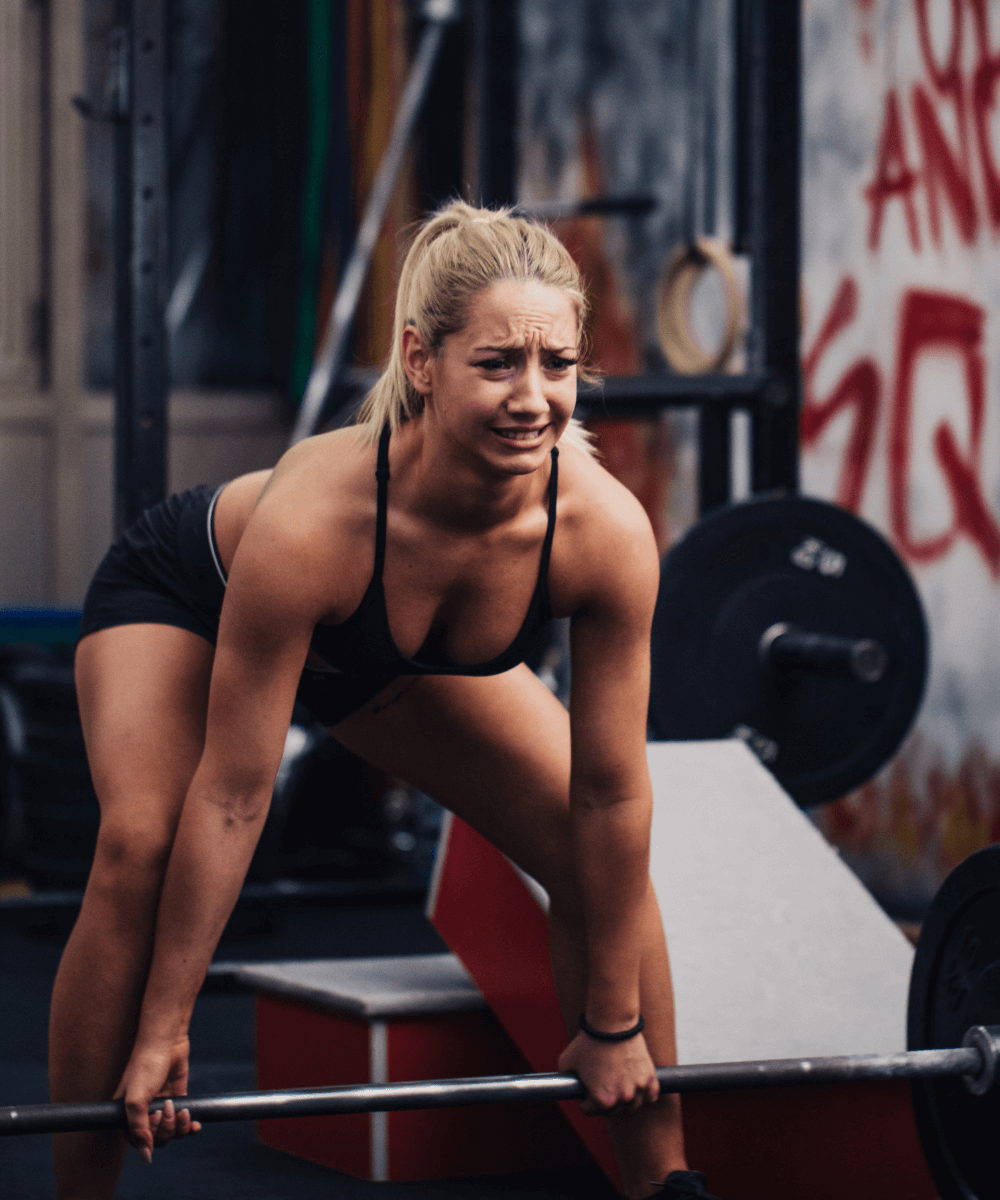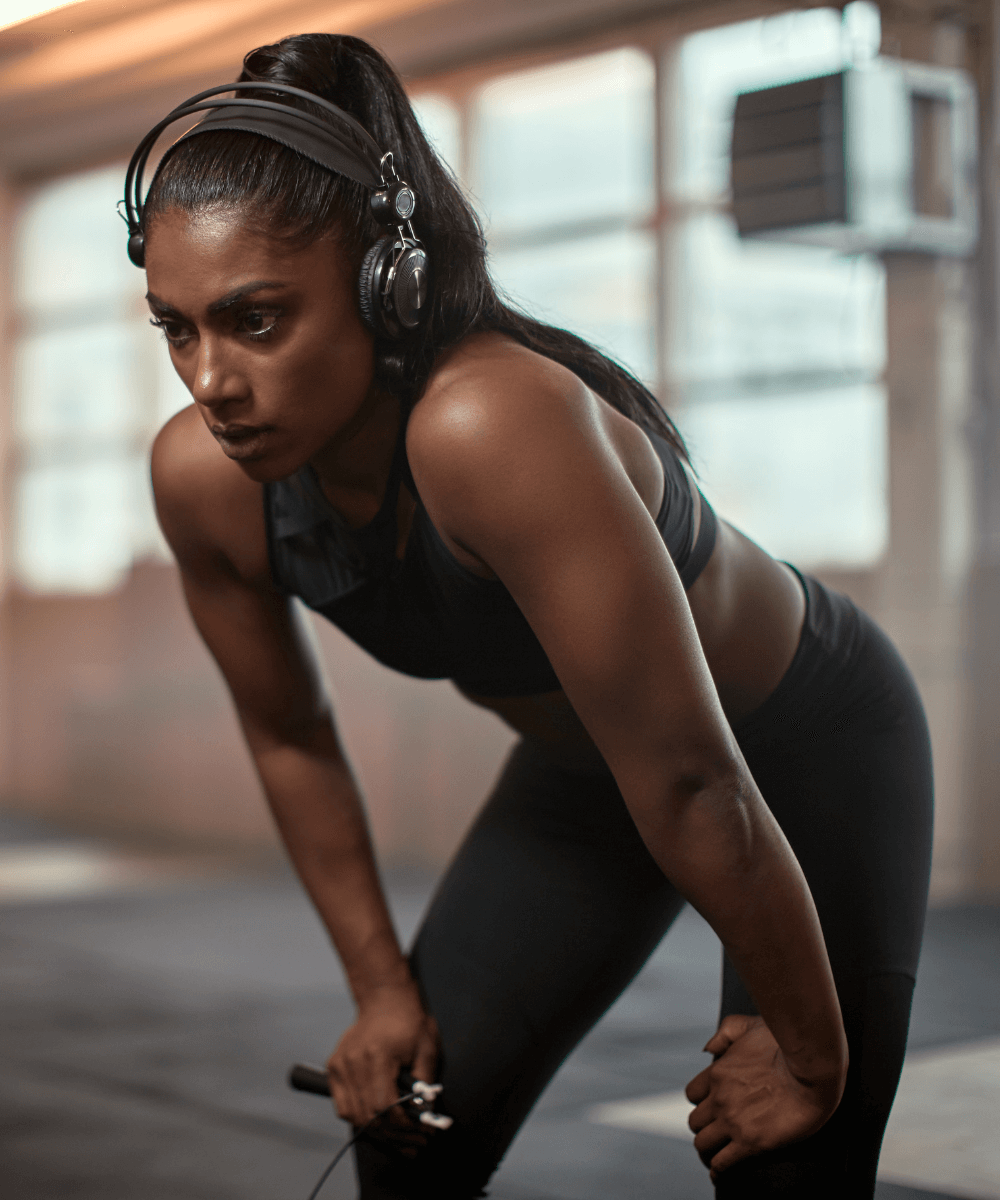 About Us
Driven by Passion
We are a science-based supplement company that is passionate about bringing premium supplements to the everyday athlete. Our team is dedicated to developing supplements that are scientifically backed, safe, and effective.
We strive to build an interactive community centered on loyalty and enthusiasm. Our goal is to create a space where individuals can come together and share their passion for going beyond their limits, both in and out of the gym.
Our Mission
Go Beyond
Our mission is to provide high-quality supplements and fitness equipment that empower individuals to reach their full potential. We believe that everyone has the ability to achieve their fitness goals and improve their overall health and well-being.
We are committed to using the latest scientific research to develop safe and effective supplements that deliver real results. We aim to help individuals push beyond their limits, increase their athletic performance, and improve their overall quality of life.
The Beginning
Our Story
This is a story of fun and friends. Of late nights and lots of dedication. Of collaboration and community. Of so much pre-workout, our team can power through a lift at 6am and be in the boardroom by 7am (who are we kidding - Zoom Call by 9am).
So much heart and passion has gone into formulating, testing, and refining in order to bring our products to market. That's why we want to share it all with you. And we don't JUST want to share it with you, we want you to become a part of it.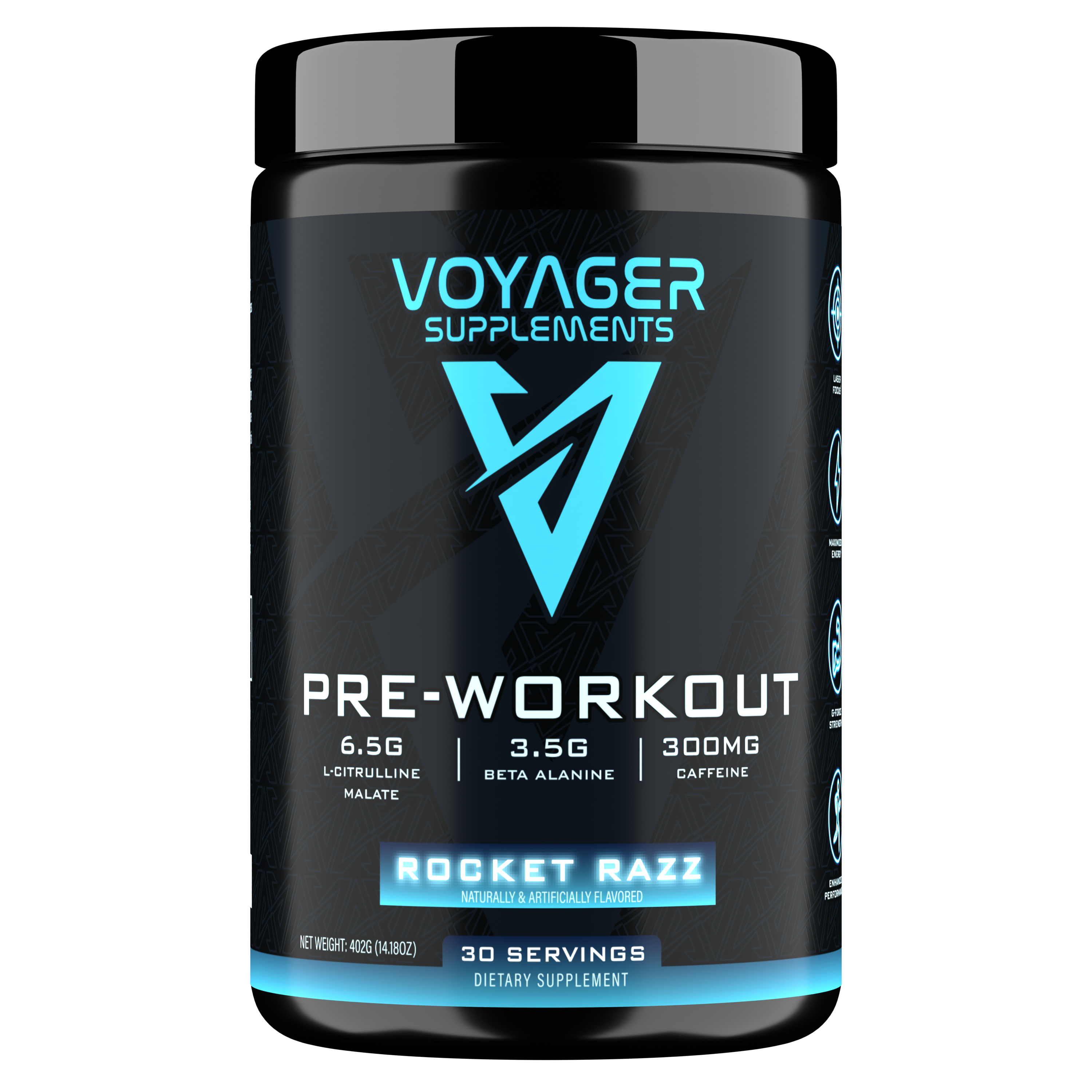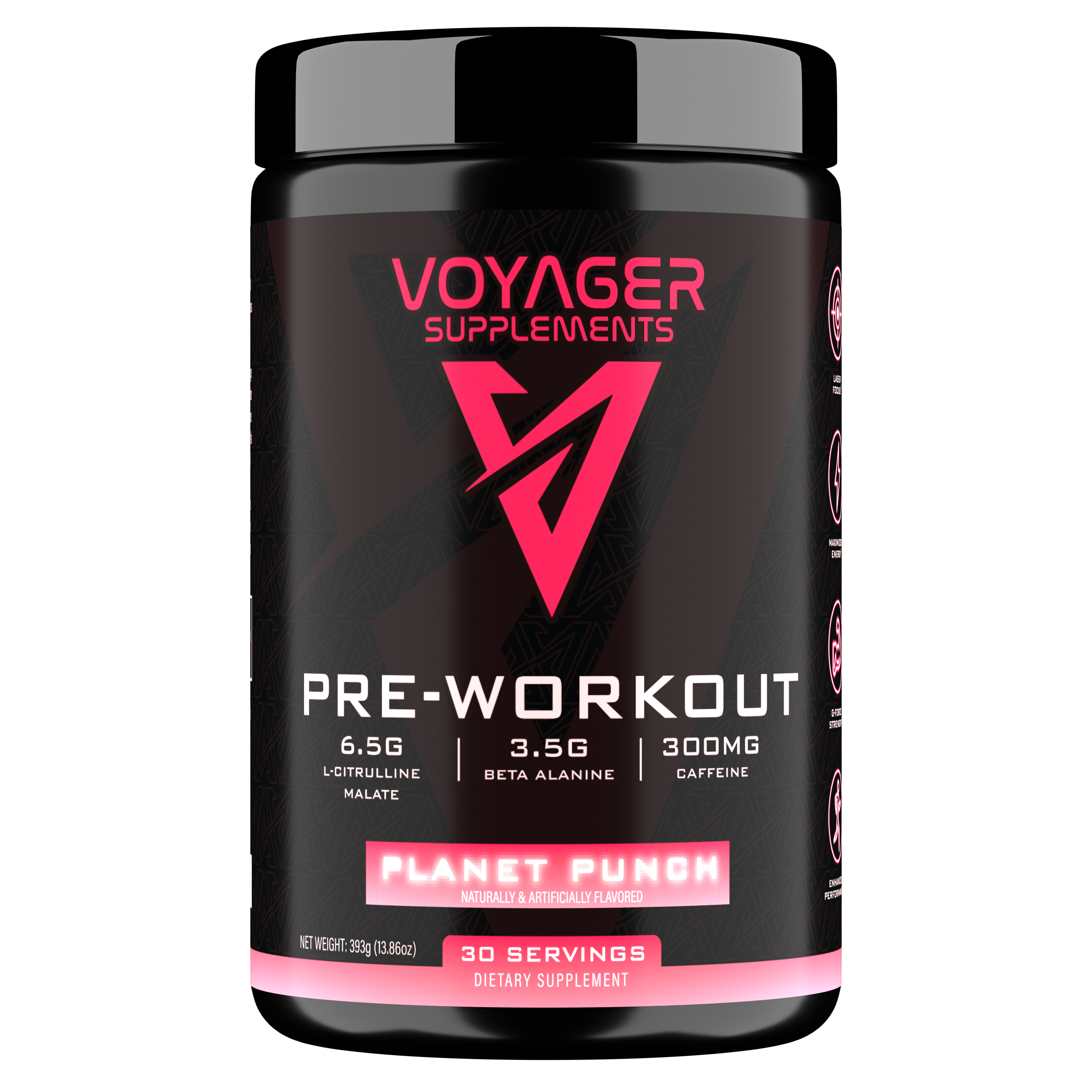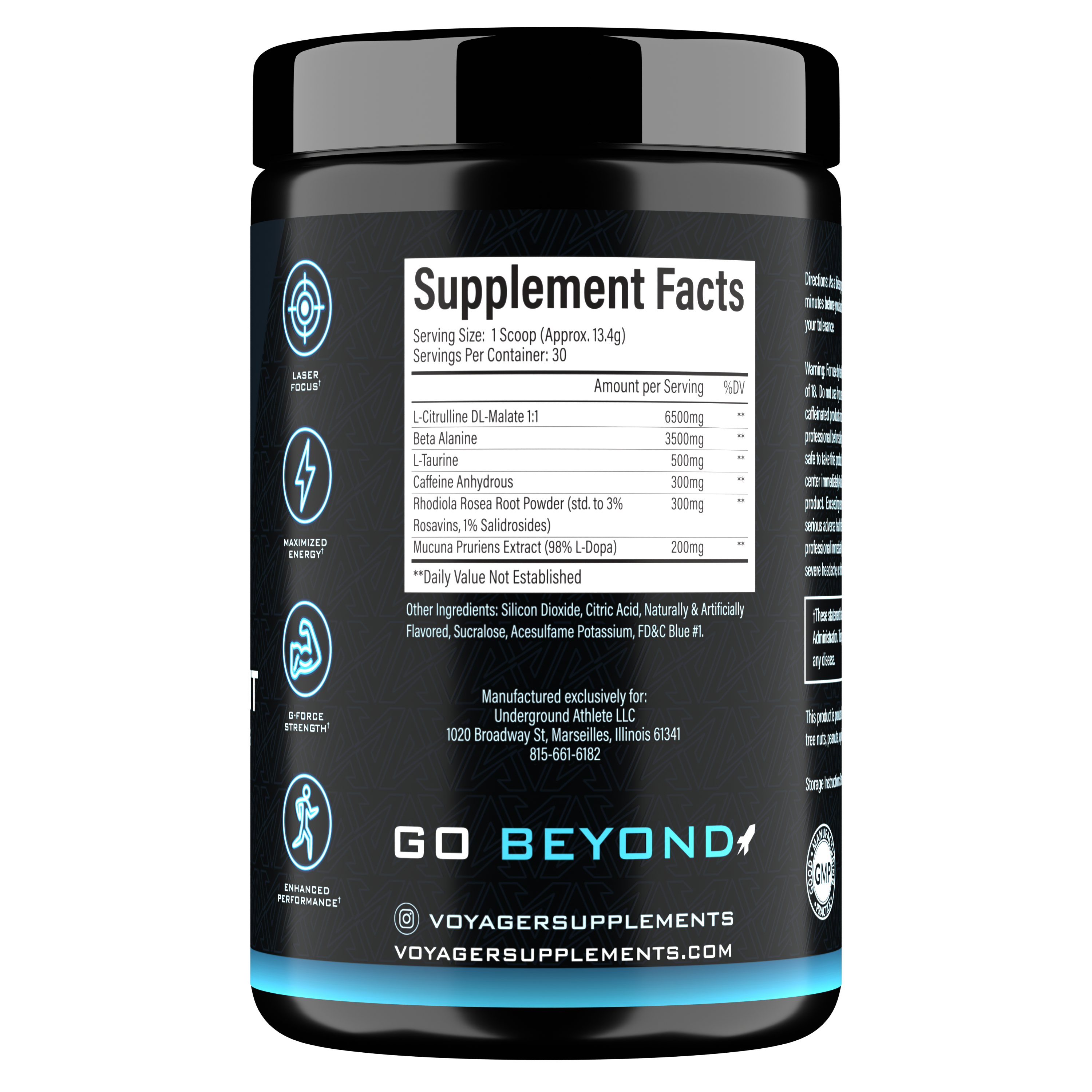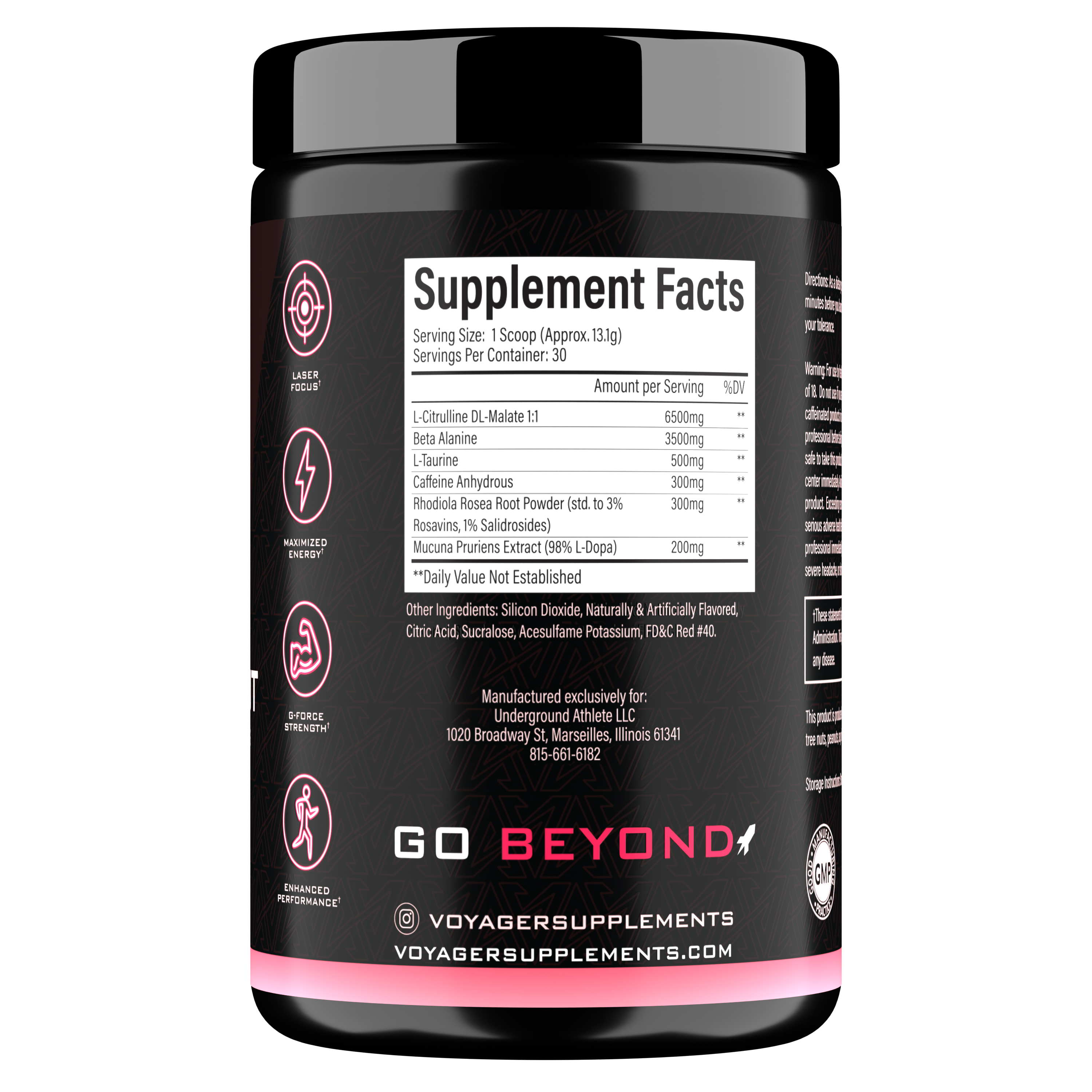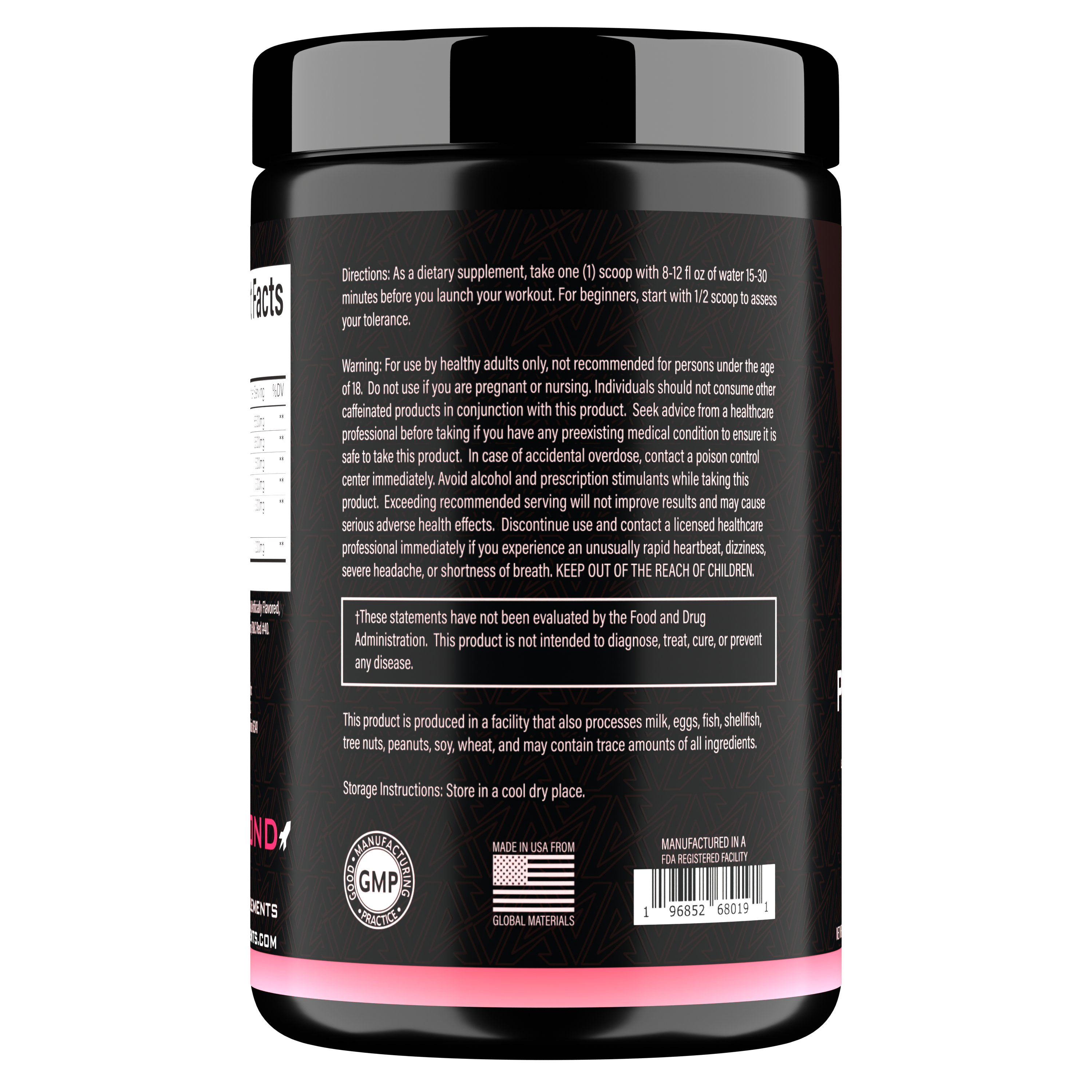 ---
Place your order before 2pm and it ships today.
Free shipping on orders $99+.
FAQ
Check out the most common questions our customers asked. Something still on your mind? Reach out to us!
What type of workouts is Voyager Pre-Workout best for?

Voyager Pre-Workout is meant for any type of workout, both anaerobic and aerobic. So, that means you can benefit from our pre-workout whether you're lifting weights, sprinting, jogging, cycling, or in a sport.

We've had some people even use it regularly to replace their morning coffee before work and whenever they needed a little (or big!) mental energy boost.
Can I take my pre-workout everyday?

Yes, in fact we do recommend you take one serving of your pre-workout everyday as some of the ingredients will build up in your system and become even more beneficial.
How long will it take to get my orders?

You can typically expect to receive your order within 3-7 business days after purchase.

Your order will be processed within 24 hours. After it has left our facility, shipping will typically be 2-6 business days depending on your shipping address.
What is your return policy?

For first time purchases, if you are not completely satisified, we offer full refunds up to 14 days after purchase.

No returns necessary to receive your refund!
Do you offer a brand ambassador program?

Yes! If you're interested in joining the crew, check out our ambassador page to see all the benefits!
You can contact us through our contact page! We will be happy to assist you.
Creatine Monohydrate
A supplement that will help you push your limits and achieve your best results yet. This powerful powder has been shown to increase muscle size, strength, and power in athletes and fitness enthusiasts, making it an essential addition to your workout routine.
Whey Protein Isolate
Whey Protein Isolate is a high-quality supplement that delivers 27g of fast-absorbing protein per serving. Low in fat and carbs, and available in a range of delicious flavors, it's the perfect addition to any fitness routine - whether you're looking for a post-workout recovery shake or a high-protein snack to power through your day.